EXCELLING ON THE CUTTING EDGE
We are your one stop shop for die design, building and repair, metal stamping and finishing, prototyping, reverse engineering or custom packaging.
MACHINE SHOP AND ENGINEERING FACILITY
Offering innovative and efficient methods of manufacturing to reduce your costs and keep pace with the latest technologies.
ATTENTION TO QUALITY
We keep most of our measuring equipment calibrated with our inside calibration lab as well as using an outside calibration company for the instruments our lab is not capable of calibrating.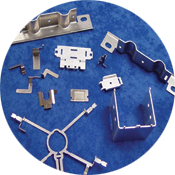 High quality, cost efficient metal stampings are the hallmark of any Tool & Die operation. We stake our reputation on our Stampings, so you can stake yours on them as well.
In today's one-chance, business environment, you can't afford to stand still. So we don't either, because what works on Tuesday may not cut it on Thursday.
We can provide you with many machining and cutting processes all in one operation with our Abrasive Waterjet Machine. Reduce or eliminate secondary operations to save time and increase your bottom line!
While the sign out front says "Tool & Die", that's only part of what we do. Astro has a fully equipped prototyping department, staffed by experienced engineers and top-level modeling pros.
Astro Tool & Die performs assemblies of machined parts. We maintain a precision secondary operations team for a variety of assembly tasks.
Over 50 Years of Exceeding Our Customers' Tool and Die Needs
We've been serving the metro Milwaukee area since 1965